Sweet Spud Brownies with Maple Cream Cheese & Cinnamon Hazelnuts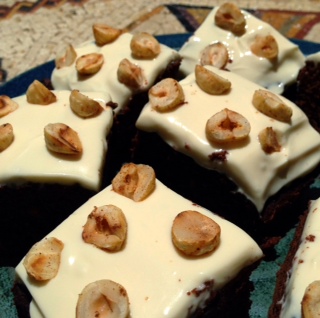 Sometimes, you just want a big fat piece of cake with your coffee.
This recipe was inspired by Clean Eating Survival Guide. They're SO easy, SO delicious and they really hit the spot and bust cravings. Oh, and it helps that they're gluten and sugar free ;) You can double the quantity and pop this in the oven in a deeper tin to make a mud cake, too - heellllloooo guilt-free birthday cake!
If you're not diggin' dairy, swap the cream cheese for whipped coconut cream (DIY whip it, whip it good) or leave off the icing all together and add the maple syrup to the brownie mix instead.
Sweet Spud Brownies (makes 10-12. Gluten free. Sugar free. Low fat.)
Ingredients:
Brownies
Half a sweet potato (about a cup) steamed and pureed

4 eggs
1 tsp vanilla extract
1 Tbs melted coconut oil
Zest of half a large orange (about 1 Tbs)
2 Tbs coconut flour
3 Tbs almond meal
1 tsp gluten-free baking powder
1 tsp cinnamon
1/2 C cacao powder
1/3 C stevia granules
Pinch of salt
Icing
Half a tub cream cheese (up to you whether you go full fat, light or extra light! You could also use quark or whipped coconut cream.)

3 Tbs pure maple syrup (add more if it's not sweet enough!)
Cinnamon Hazelnuts
1/4 C raw hazelnuts, chopped into halves

1/2-1 tsp cinnamon
Pinch of salt
Method
Preheat the oven to 180 degrees and line a 23-cm square baking tin with baking paper

In a large bowl, sift the cacao, baking powder and coconut flour and add almond meal, cinnamon and salt
In a small bown, beat the eggs  and vanilla with the stevia until you have a lighter coloured airy mix
Fold that in with the dry ingredients along with the orange zest and coconut oil until JUST combined
Pop the batter in the tin and bake on the middle shelf for about 25 minutes or until the brownie is soft to touch, but not wet & wobbly, in the middle
Leave the brownie to cool in the tin completely, then turn onto a cooling rack
In a small bowl, use a fork to soften the cream cheese and make a smooth, lump-free consistency. If you need to soften it some more, pop it in the microwave for 10 seconds. Stir in the maple syrup and put the mix in the fridge until it's ready to be used
In a pan on high heat, toast the hazelnut halves until they come golden on the clean-cut edge
Have a little bowl prepared with salt and cinnamon and immediately toss the hazelnuts with the mix as soon as they're off the heat
Once the brownie is cooled, spread the cream cheese icing mix on top with a palette knife
Scatter the hazelnuts on top, then slice into even chunks