Recipe: Banancakes
I wrote this recipe originally for an awesome wellness blog, Wellness WA . It's a goodie when you haven't got many ingredients on hand but have a serious hankering for something sweet! I love pancakes on lazy Sunday mornings, but unfortunately they're a "sometimes food". I can't even describe how thrilled I was to stumble across a "pancake" recipe with two ingredients – banana and eggs – and then to discover it tasted like banana bread…!!!!
After my first shot at making these banana-y pancakey gems, I christened them "Banancakes". If you're sceptical, I urge you to try these out because they are the best thing since sliced [banana] bread.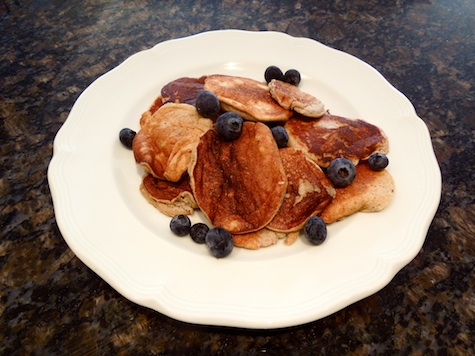 Ingredients:
One medium banana

Two whole, organic, free-range eggs
Method:
In a blender, whiz up the eggs until they're frothy. Slice up the banana and throw it into the blender (with a hefty pinch of cinnamon if you're a cinnamonster like me) until you end up with a smooth "batter".

Grease a frying pan with some coconut oil or a non-stick spray and pour the mixture on – smaller pikelets are easier to flip! Keep the heat on low-medium (the sugar in the banana caramelises and therefore these babies burn easily). Just like pancakes, flip the banancakes when you see little bubbles on the surface.

Cook on the reverse side until they don't feel squishy to touch – it's about five minutes on each side. 

They're fairly moist so they don't need any accompaniments, but they are delicious with a drizzle of organic maple syrup. You could also make banancake sandwiches with some natural peanut or almond butter in between two cakes!
Note: If you find they taste a bit 'eggy', turn the heat down on the pan. Alternatively, use three or four egg whites instead of two whole eggs.