Guest Recipe: Spicy Black Bean Burgers
This inaugural guest post comes all the way from Canada! I spent six months studying in Toronto and safe to say, the maple syrup, poutine, bagels with cream cheese, endless aisles of "breakfast cereal" (...Cinnamon Toast Crunch oh.my.god.) and abundance of yummy breakfast haunts that serve waffles the size of your face loaded with cream...yeah, that ALL went to my face. I've always had chubby cheeks but check this out:
Normal chub face
After about 4 months in Toronto (so much face...and everything else for that matter)
My return home from Canada actually kick-started my healthier lifestyle. Anyway, I digress.
I met Emma in Toronto as a fellow journalism student and we've kept in touch. She's wonderfully intelligent and recently lost some weight with a healthy, balanced lifestyle. Not one wanting to give up old favourites, Emma made changes in the kitchen to kick things up a nutrient-dense notch and make vegetarian food exciting and satisfying. And so her Spicy Black Bean Burgers were born.
Take it away, Emma!
As a girl who grew up eating burgers, chicken fingers and pork chops, I will freely admit to loving imitation-type foods. I love maple-infused 'bacon' tempeh, tofu, and yes, veggie burgers. I like food that pretends to be something else while giving me a similar experience. Veggie burgers let you pile on all the typical burger toppings without sacrificing a ton of the taste, as basic beef patties don't taste like much anyways!
It doesn't help that since I became vegetarian in 2010 (my sister followed in 2011), my mom started buying lots of fake veggie products when we came home to visit. I know that it helps her plan meals better by just giving us the veggie alternative of whatever she and Dad are eating, and I appreciate the effort she's making. However, I'm a bit wary of the ingredients in some of these products.
It's been widely reported that many big-name makers of soybean products use a chemical called hexane, a chemical pollutant and neurotoxin, to bind their products together in place of the fattier soybean oils, which are removed in processing.
There's no REAL reason to worry... Environment Canada says the amount in our food doesn't contribute hugely to our hexane intake (way more of it comes from inhaling paint and gas fumes) but it's still concerning that the producers of your veggie "chicken" burger are contributing hugely to the levels of hexane being pumped into the atmosphere.
Also, most soy patties taste like cardboard. 
:(
Sooo... what's a reasonably skeptical yet clean-eating girl who likes good food to do?
Make some yummy REAL burgers!
I've made it a bit of a mission to search out the best veggie burger in Toronto and have found that some of the best ones incorporate quinoa, mushrooms and onions. Something about the way those foods smell when mushed together and sauteed makes me a bit weak in the knees.
But the one I turn to the most at home is this stellar black bean burger recipe from Gina at Skinny Taste. They're spicy, hearty and hold together well - something that's often hard to achieve in a burger with a lot of ingredients.
They're also divine served with some sliced avocado and salsa, or as Gina recommends, a dollop of chipotle mayo.
Spicy Black Bean Burgers (serves 4) (vego. low fructose. dairy free. low fat.)
Ingredients:
16 oz (2 cups) can black beans, rinsed and drained

1/2 a red bell pepper, cut into 2-inch pieces

1/2 cup chopped scallions

3 cloves garlic, peeled

3 Tbsp chopped cilantro (aka coriander)

1 egg

1 Tbsp cumin

1/4 to 1/2 tsp salt

1 tsp hot sauce

1/2 cup quick oats* 

Burger buns 

(Ed's note: you could use a large grilled field mushroom or thick slice of eggplant instead)

1 small avocado, diced thin

(optional)

Salsa

Mayo stirred with canned chopped chipotle pepper 

(Ed's note: Aussies, if you can't find this in the same aisle as beans/canned tomatoes or Mexican food, there are usually cans of milder peppers you can buy. Add some cayenne powder for va-voom heat.)
* You can use rolled oats, but the burgers won't hold together as well, as the pieces are bigger
Method:
After washing the beans, dry them well, as the moisture will keep them from sticking together. Mash them in a bowl with a fork (I use a potato masher as they're hard to squish) until they form a paste.

Chop the red pepper, scallion, garlic and cilantro then blend using a food processor or blender.

A

dd spices, oatmeal and egg to the pepper mixture and then pour into the bowl with the beans: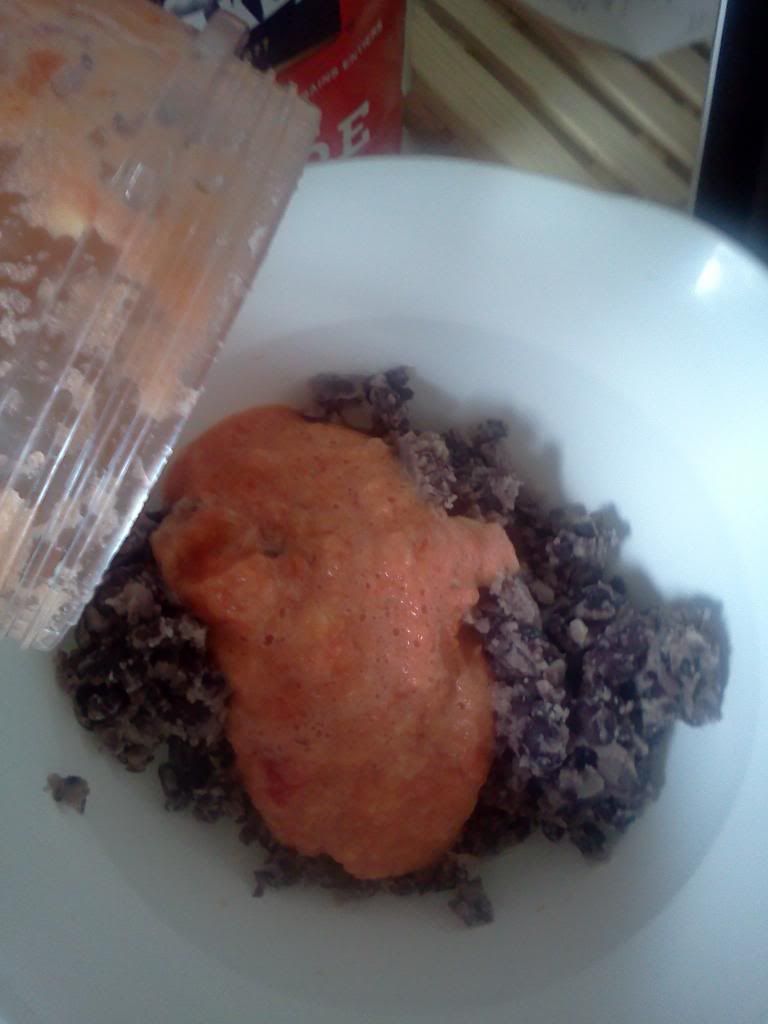 Shape into 4 patties and place on a sheet of baking paper. Freeze for at least two hours before cooking.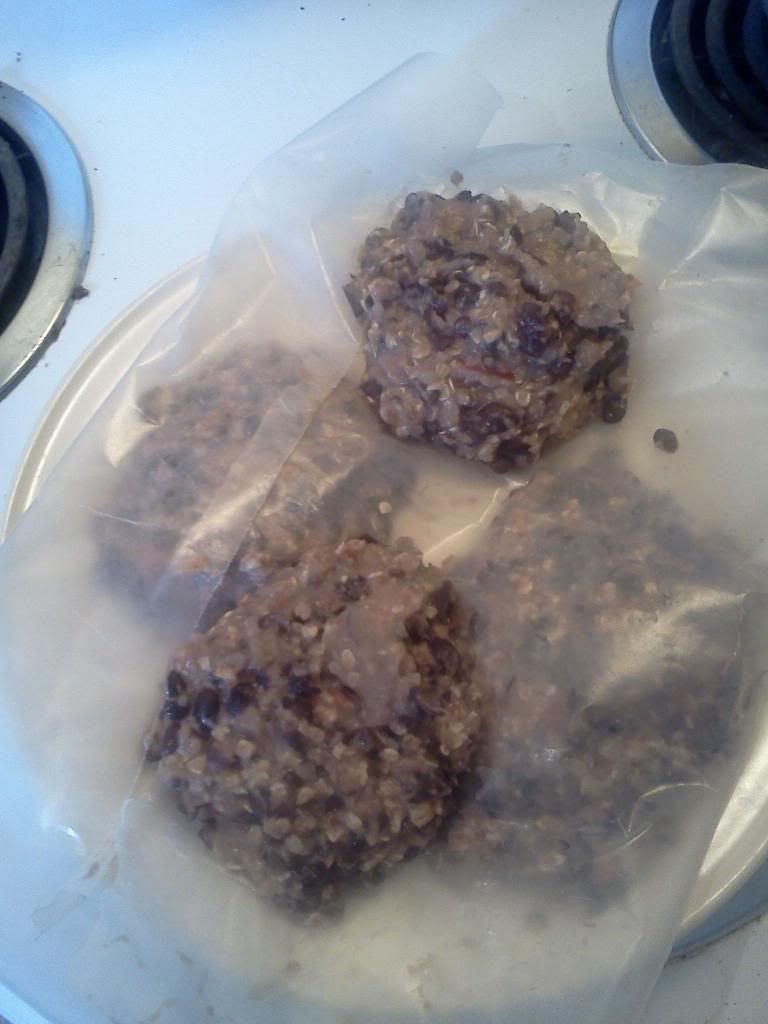 I usually use about a tablespoon of olive oil or oil spray. Set the burner on medium heat and cook about 7 minutes on each side.
Garnish with avocado and salsa or chipotle mayo.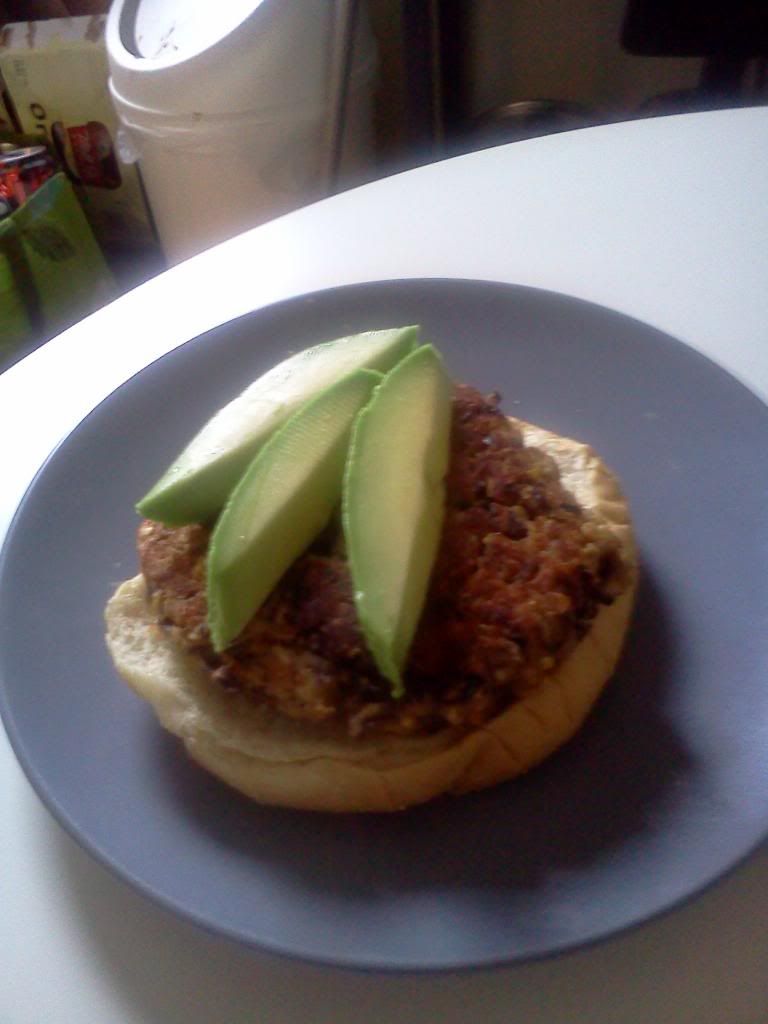 Emma Prestwich is a recent grad of Ryerson University's journalism school in Toronto, Canada. Emma loves writing, running, and talking it out over a few beers. She is passionate about balance, trying to eat clean, and dessert. You can find her on Twitter at @emma_prest.