Chocolate Nice Cream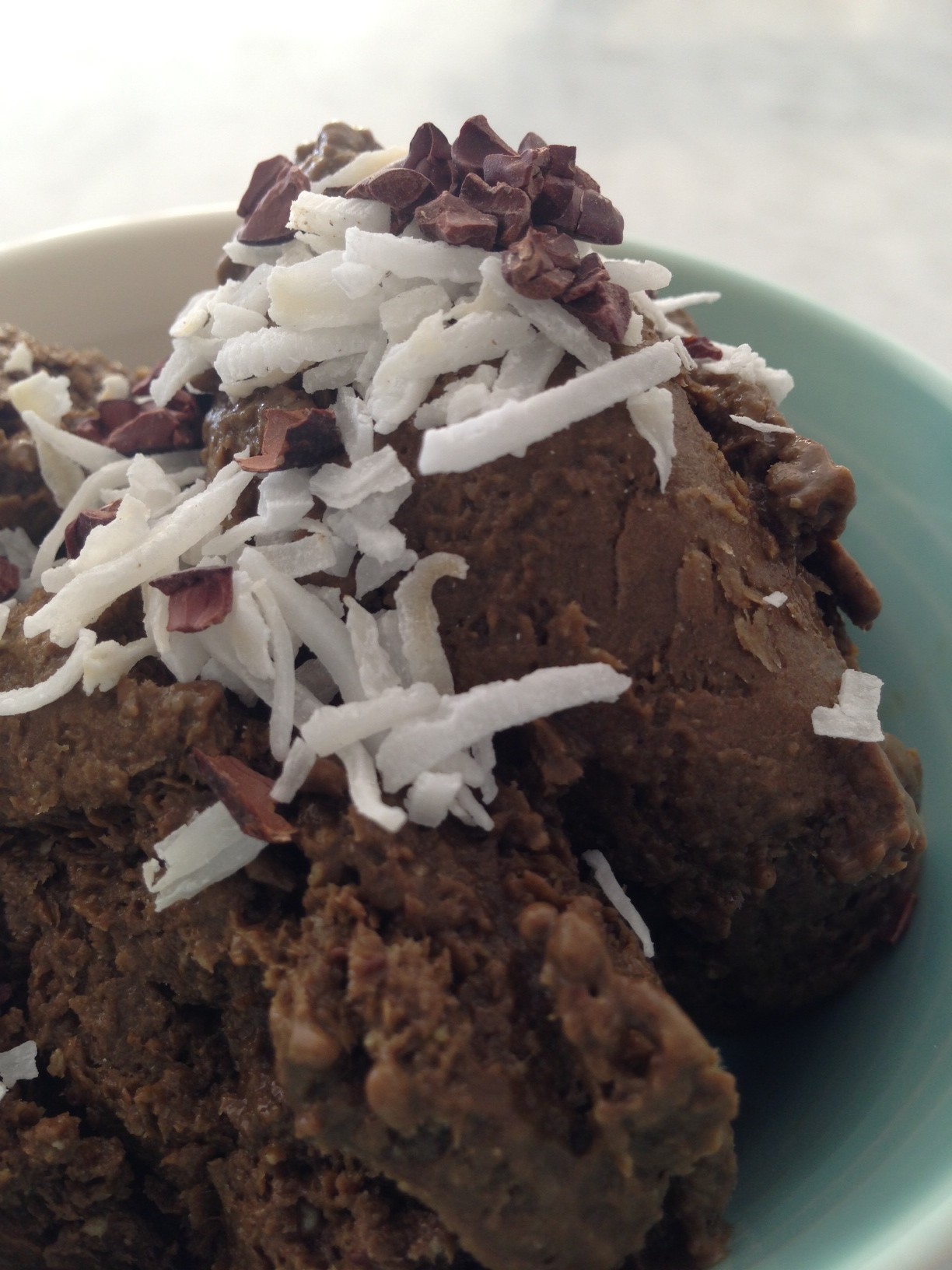 Ice cream is like my Achilles' Heel. I love the texture, the sweetness, the melt-in-your-mouth sensation. But what would you say if I told you the below ice cream was so gosh darn good for you that you'd even be getting a hit of leafy greens with every spoonful??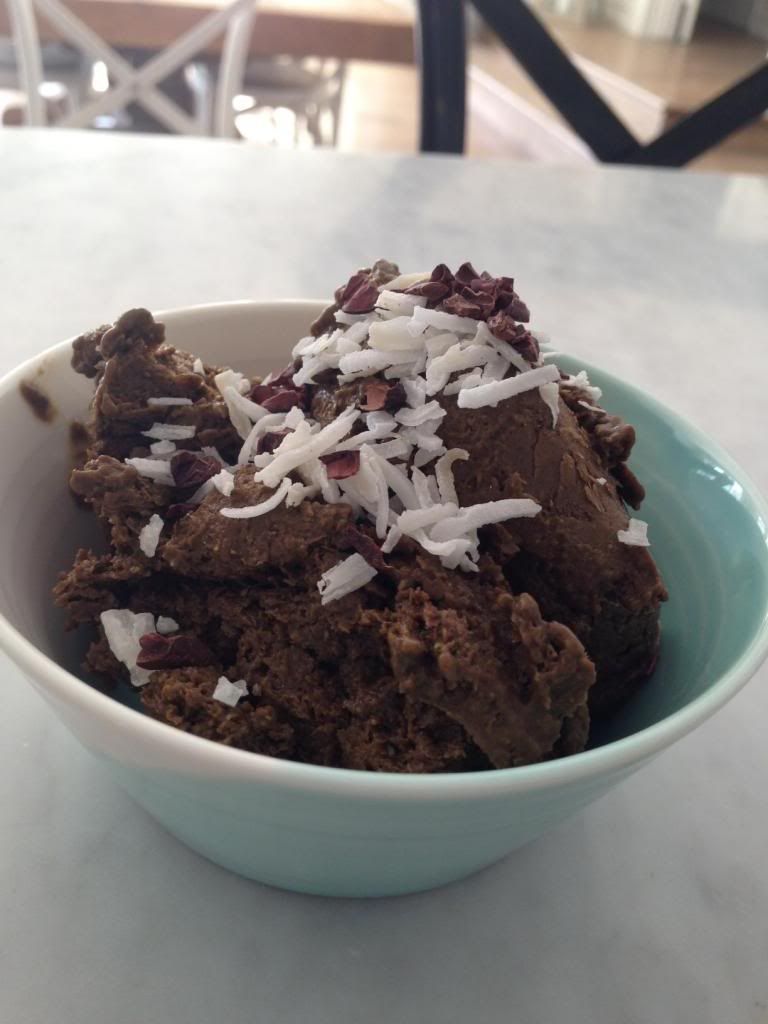 This isn't just ice cream, this is nice cream.
Chocolate Nice Cream (serves 2 fairly generously) (gluten/sugar free. low fructose. low carb.)
Ingredients:
40g vanilla protein powder, organic and naturally sweetened is preferable! I use whey.

2-2.5 Tbs raw cacao powder
1 tsp chia seeds
1 tsp flax seeds (AKA linseeds) (whole or ground)
1/3 large avocado (about 1/3C or just over)
1/3C non-fat plain greek yoghurt
Stevia (about 1-2Tbs but depends on how sweet your protein is)
Big handful spinach
About 1/2C water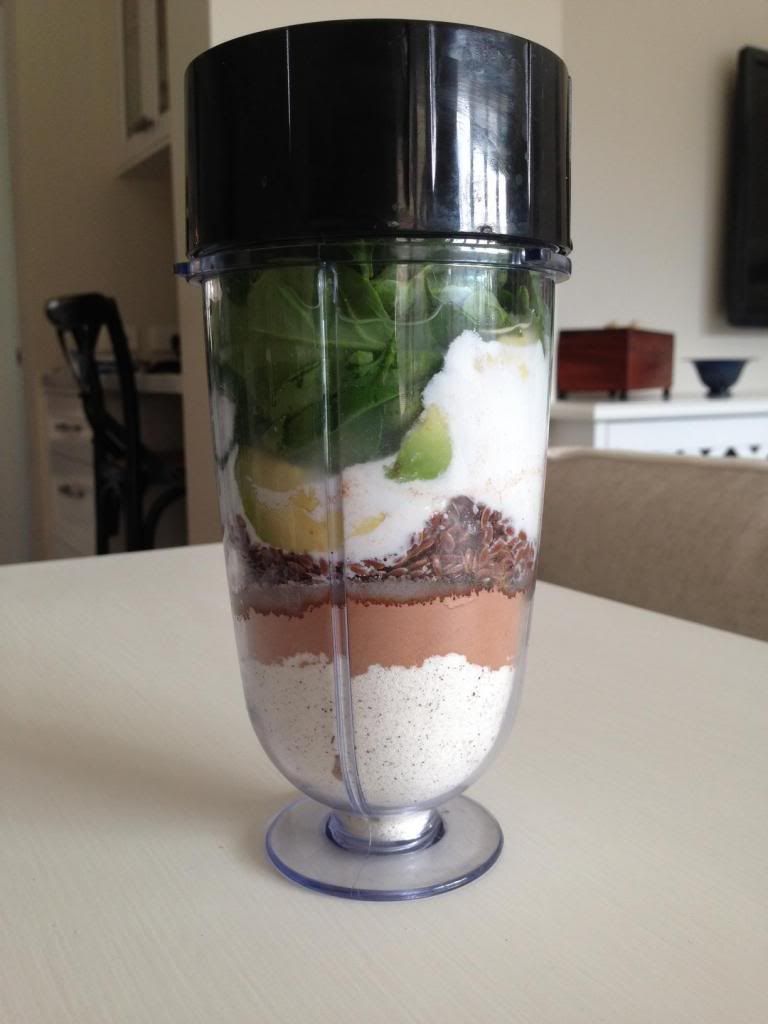 Method:
Put all ingredients into a blender with the spinach closest to the blades. Don't put all the water in just yet - you can add more if it's a bit thick.

Blend, blend, blend. I LOVE my little single cup blender that I picked up from a discount store (Crazy Clark's) for about $30. I use it at least every other day and it blends everything. Of course, a normal blender will also work but just keep pulsing until you get a smooth consistency.
Here's the swamp sludge you'll end up with: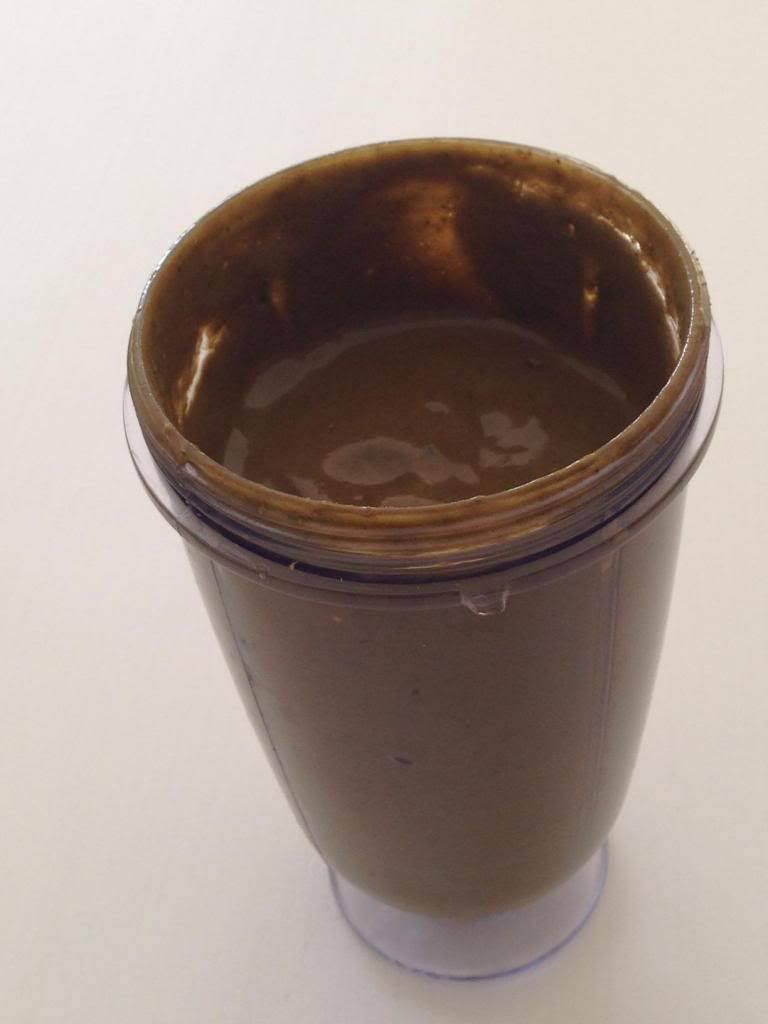 You want the mixture to be thick enough that it doesn't run down the sides of the blender, but not so thick that it's like a pudding or thick greek yoghurt. It needs to be pour-able to the point where it'll all pour out and you just need to scrape the sides of the blender.

Pour the mixture into a couple of containers, or one larger container...whatever will fit in your freezer! A plastic lunch container will do the trick.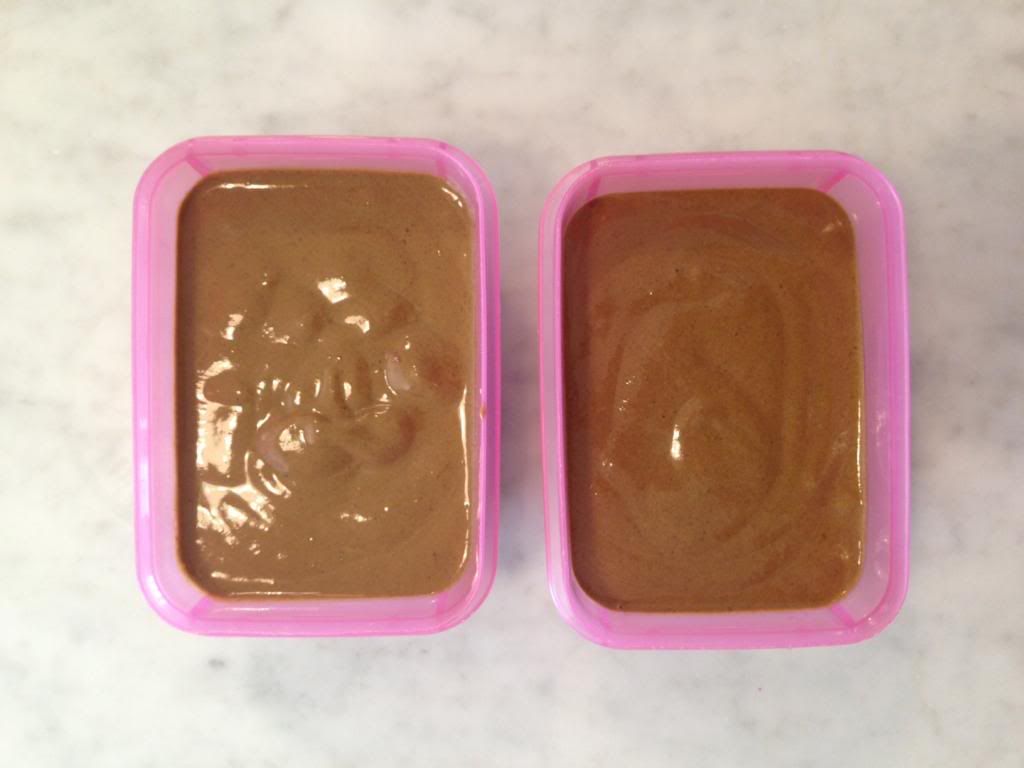 Pop it in the freezer overnight, or at least six or so hours. 

It's ready when you can put a spoon straight in and not have any gooeyness in the middle - just like a cake!
If it's been in the freezer overnight or longer, you might need to let it sit at room temperature for a few minutes. Otherwise, give the mix a stir to create a bit of a soft serve style of ice cream!
Pop into two bowls and top with unsweetened coconut and cacao nibs, or berries, nuts or whatever else takes your fancy!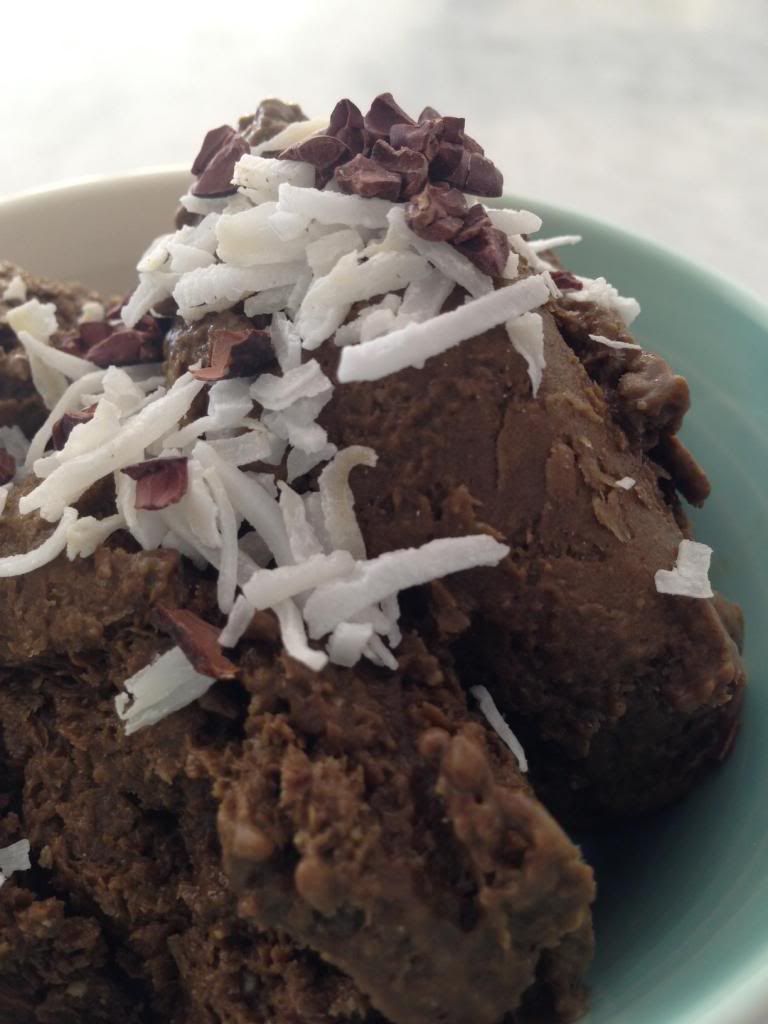 Notes
The consistency might be a little "icy", kind of like sorbet or frozen yoghurt. You can combat this by adding another 1/3 avocado instead of greek yoghurt, or using full fat greek yoghurt, or using coconut or almond milk instead of water.

If you want something more decadent as a "treat" or for entertaining, remove the greek yoghurt, use 2/3 or a whole avocado and use milk instead of water (cow's, or whatever your preference is).
You can play around with the flavours! Try adding orange zest to the blender, use coconut cream instead of water, stir in some coconut shavings, cacao nibs, crushed macadamias or peanut butter when the mix is half frozen or use banana instead of greek yoghurt.
You don't have to add the spinach, chia or flax seeds. But I use this recipe as a "meal" recipe and sometimes my protein smoothies have very similar ingredients! It's a way of satisfying a craving for ice cream while still getting the nutrients my body needs.
Why this ice cream is amazeballs:
Obviously, it's PACKED with protein to keep you full and your muscles fed.

Cacao powder (not cocoa powder) is a great source of antioxidants to keep you lookin' fine. Cocoa powder is fine to substitute.
Flax and chia seeds are awesome because they're great sources of fiber and omega-3 fatty acids - great for the mind and joints.
Avocado is a wonderful source of fiber and healthy fats that will make your skin radiate goodness  and give you energy.
Spinach is green, green things are good for you. Lots and lots of calcium, iron, vitamins and a billion other things that you should be getting into your body every single day.