The Perfect Paleo Omelette
Omelettes are often so much tastier when they're laden with oozing cheese and bacon, but here's a foolproof recipe to get a yummy omelette every time, cheese free (can't eggs-actly promise the puns won't be cheesy).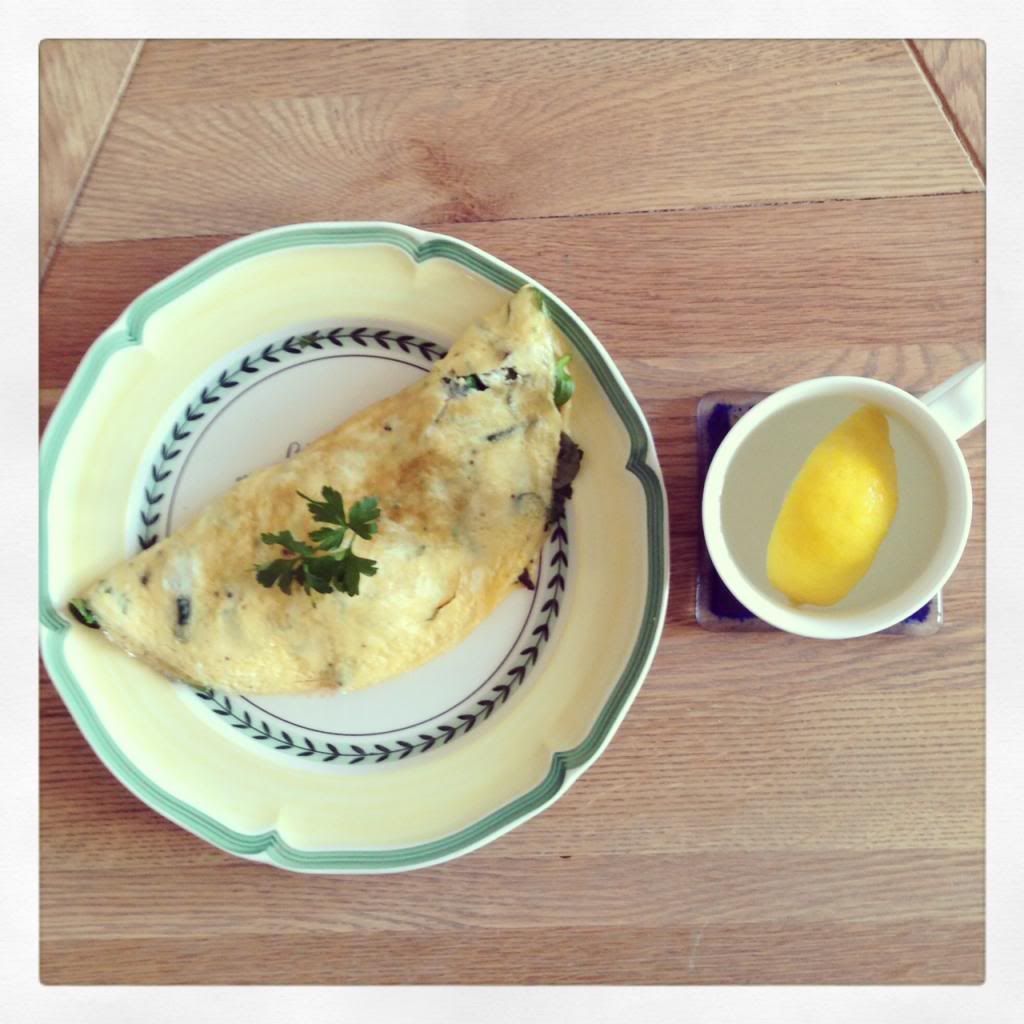 Perfect Paleo Omelette (makes 1) (gluten/dairy/sugar free.)
Ingredients:
2 whole organic, free-range eggs

1 extra egg white (optional)
1 Tbs nutritional yeast
salt & pepper
Method:
In a medium-sized frying pan (about 25-30cm across, or smaller) on medium heat spray the surface with olive oil or non-stick spray, or melt 2 teaspoons of organic butter. I find coconut oil doesn't do the trick in terms of being completely non-stick, plus olive oil or butter will give a much better flavour. Make sure the whole pan has been covered with whatever grease you decide to use.

Mix the eggs with a fork in a bowl or measuring jug with a splash of water - about a tablespoon - and salt and pepper.
When the pan is up to heat, pour the eggs in. Let them be for a little bit.
When you start to see the eggs going slightly opaque, use your spatula to gently pull the egg in from the sides of the pan towards the middle. The egg should run into the path you've just created, filling it in.
Once the eggs stop filling in your spatula paths (tilt the pan to get some of the surface runny egg into the hole when the eggs don't naturally spill in), sprinkle the nutritional yeast across the surface, plus any fillings you want along one half) then pop a lid on the pan. I use a wok or tagine lid because...well, they're the only ones I have that fit my pan.
Check your omelette every 45 seconds or so. Once the top is cooked (glossy and a little wet, but cooked), use the spatula to jimmy along the edges of the non-topped half of the omelette. Fold it over your fillings, then lift your finished product onto your plate!
Notes
My favourite fillings to use are leftover roasted veges -  asparagus, zucchini and mushrooms are especially eggs-ellent. Sauteed spinach is another good'un! Try to use more veges than non-vege fillings (like sauces and meats) because it's such an easy and tasty way to up your vege intake. No boring steamed vegetable side dishes to be seen!

Use herbs to make your eggs a little more sexy and gourmet. My favourites in omelettes are parsley and thyme. Though my brother makes an Asian style omelette with chicken, spring onions, chilli, fish sauce and coriander!
Use sauces to complement the flavours, like pesto, salsa verde, low-sodium/sugar salsa, organic ketchup and mustard.
Nutritional yeast sounds gosh darn disgusting, I know. But it's got a remarkably pleasant taste! Available in health food shops and on The Magical Interwebz, nutritional yeast comes in flake form. It's golden yellow and has a cheesy flavour - think of it as a replacement for parmesan. While it doesn't have the oozy, melting deliciousness of real cheese, it should hit the spot in terms of flavour. Get your ooziness elsewhere by using cherry tomatoes, caramelised onions (yum!!!) and even nut butters in your omelettes.
Why this omelette is egg-citing
Eggs are a fantastic source of protein and healthy fats to help muscle growth and keeping you feelin' full

Nutritional yeast is gluten-free and an eggs-traordinary source of vitamin B, which aids production of red blood cells and also improves your mood and lowers your stress levels. Usually, animal products are the richest sources of vitamin B so nutritional yeast is wonderful for vegetarians/vegans. One tablespoon is your entire daily vitamin B dosage.
If you're in the market for some baby-making, there's loads of folic acid in nutritional yeast which is thought to reduce the likelihood of birth defects.
Nutritional yeast is a great meat-free source of all the essential amino acids - it's a protein powerhouse!
Tell me a cheese that can give you all that and I am sold!