Not-So-Vanilla Protein Pancakes with Jaffa Ganache
I think I've found the closest thing to eating cake for breakfast without actually eating cake for breakfast.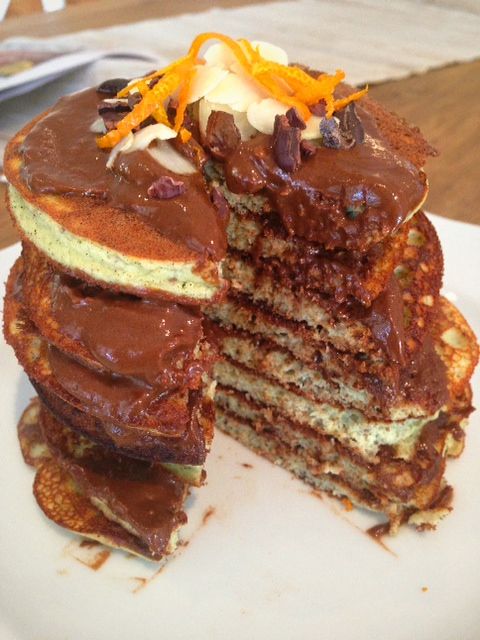 This recipe is more "treaty" than regular protein pancakes as its fat content is a wee bit higher than say my Pumpkin Protein Pancakes and it yields more pancakes, but they're still full of goodness with no nasties. I've been making these for weekend brunch lately because they keep me so full. And it makes me feel like I can have my cake and eat it too.
Not-So-Vanilla Protein Pancakes with Jaffa Ganache (serves 1 for brunch, or 2 for breakfast) (gluten/sugar free. vego. low fructose. low carb.)
Ingredients:
Pancakes
30g vanilla protein powder*

1/2tsp gluten free baking powder
1.5Tbs almond meal**
1 whole egg
1 egg white, or about 1-2Tbsp water
One 5cm "chunk" of zucchini, chopped (just over a cup)
Jaffa Ganache
2Tbs raw cacao powder (give or take, depending on how 'dark' you like your chocolate)
1/4 avocado
Zest of 1/4 orange (again, give or take depending on your desired level of zestiness)
Stevia to taste
Water, enough for desired consistency***
*I used whey isolate which turned out fine because of the almond meal preventing it from going rubbery. You can also use pea protein, or a mix of both. If your protein powder isn't overly sweet, add a touch of stevia to the batter. Similarly, if you want to kick the vanilla up a notch, add some vanilla powder/extract/paste.
**You can swap this out for 1Tbs of coconut flour, but I'd recommend using a protein blend rather than just WPI if you do as coconut flour has the tendency to toughen up mixtures when cooked.
*** If you're not fussed about fructose, it's even yummier to use fresh orange juice instead of water.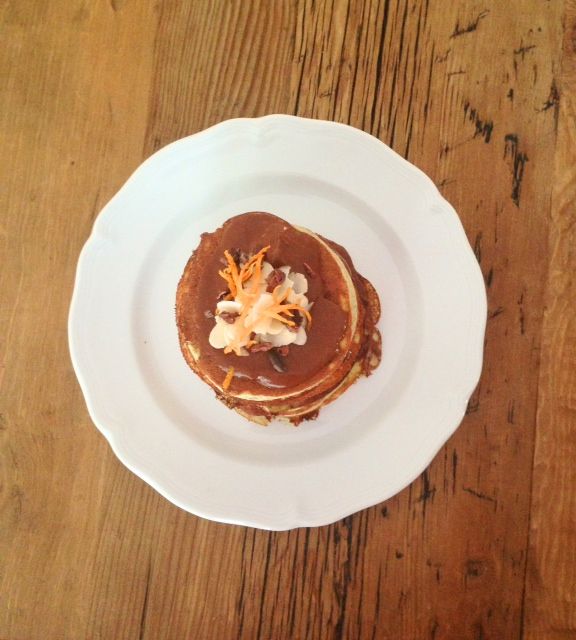 Method:
You know how much I love my little blender (el cheapo version of the Magic Bullet) and it really does come in handy for these. Nonetheless, a good blender or food processor will work.

Pop all the pancake ingredients into a blender/food processor and blitz. Hold off on the water for now. Because eggs vary in size and zucchinis vary in water content, your batter might vary to mine. If it's too thin (like really watery), add extra protein powder, almond meal or some flax seeds (ground or whole) and blitz again. If it's too thick (like a thick coating on the sides of your blender and moves slowly when poured), add a splash of water.
Pop a frying pan on medium heat and coat with some non-stick spray. Give it a chance to come to temperature then pour in your batter, leaving enough room for flipping. I did three 8ish-centimetre wide pancakes at a time. Leave uncovered and cook on one side for 4-5 minutes.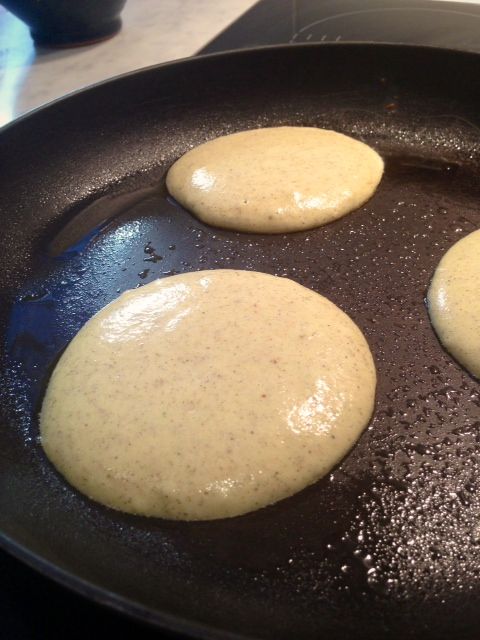 Flip the pancakes when you can see the bottom rims starting to go golden. Depending on how thick your batter is, bubbles will appear on the tops. You can also see if they're ready to flip by shimmy-ing your spatula underneath - you'll know if it's too soggy to flip!

Cook on the other side for about 2-3 minutes, or until they're firm to touch (if you touch the top of the pancake, your finger should leave a very light indent. No indent at all means overcooked, and if your finger sinks in then they're not done yet). They'll keep cooking when you take them off the heat.
Continue with the rest of the batter, spraying the pan before each batch.
While the pancakes are cooking, blitz the Jaffa Ganache ingredients. Again, hold off on the water/juice. You'll need a little bit to get the blending happening, but wait until it's pretty much combined before adding more.
The ganache consistency should be like..well, ganache. Kind of like a creamy cake icing, not too stiff. Like thickened or double cream. You want it to spread, rather than pour as a sauce.
Once all of the pancakes are cooked (hint, if they're getting cold while the batches cook, keep the cooked pancakes on a plate in a cool oven - 50 or 60 degrees celsius - or cover them lightly with foil which will also keep them moist and cakey. Double hint, if you want a really moist mud-cake style stack, squeeze some orange onto each pancake as you take it off the heat), simply layer by spreading ganache on a pancake, popping another pancake on top, ganache, pancake etc etc until the top is a pancake with ganache on it!
Garnish with a sprinkle of slivered almonds, cacao nibs and extra orange zest if you so desire.

By using the ganache, the pancakes stay moist and the stack turns into a bit of a layer cake. Of course, you can always just throw the pancakes and dollop on the ganache lunch-lady style and it will still taste delicious :P